Immerch Business
With Immerch, you get access to infinite opportunities for your business in term of digitizing information, increasing brand awareness, and improving sales conversion.
Businesses and eCommerce sites can implement Immerch sign-in feature as soon as user sign up with Immerch facial recognition, all related information (contact details) including the Credit card token will be shared instantly and you won't need to store these pieces of information on your sites/databases.
We provide complete GDPR compliance as well as full ownership and data security for consumers' shared information.
Businesses can upload 3D Product Models or 360 degree video content to Immerch cloud. This will lead to a more profound approach to how you market on the web.
For every uploaded 3D model on Immerch cloud, a web viewer link will be generated through which, online presentation and the in-app exhibit will become easy! Immerch lets you showcase your product's functionalities in a more in-depth and attractive way.
Immerch Virtual Try-on
This function is an ideal way to increase return on investment and conversion rate. Studies have shown that an important aspect of people refraining to online purchases is their inability to touch or feel the product. This Immerch feature will allow consumers to virtually try out products like makeup, footwear, jewelry, glasses, accessories and more on their virtual selves.
The procedure will make it easy for the consumers to select their desired product with a satisfaction of a tryout. Online businesses can benefit from such a feature in terms of reduced return rates too!
Immerch face filter
Face filters are a popular way out to many online functionalities!
Businesses can enable Immech face filter for brand awareness. A great example of using this feature is to upload face filter in Immerch app and using it for demonstration videos and using them to your logos and other marketing materials.
Another benefit of going digital with Immerch is, it reduces the cost of printing material and other offline advertisement expenditure. You can simply share updated information such as brand or product brochures, catalogs, leaflets, and presentations via QR code. This comes handy for businesses as well as consumers, as QR codes are easy to generate and scan.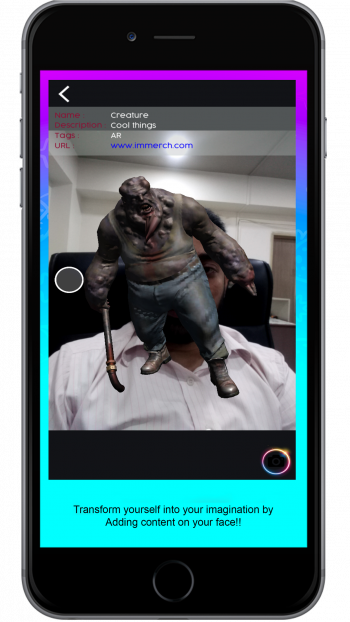 Immerch End-to-end Solution provider
Immerch is backed up by skilled and innovative augmented reality (AR) developers from all over the world. When in need of expert guidance for any of our services or need a hand for reducing marketing and transactional costs, just get in touch!
When you deal with our solution experts, you can expect completely reliable and responsible responses in return. Our team will guide you throughout and will be available for each of your silliest queries.
The end-to-end solution is our forte and we use simple use cases to explain our services. A security breach will never be a concern when you collaborate with Immerch and end-to-end encryption is our priority.
Give us a call or drop a text for varied solutions! Communication, security, information sharing, marketing, augmented reality, presentations, cloud compliance, contact sharing, audio, video and conference calls; are to name a few.
Immerch Developer portal (coming soon)
Immerch is soon coming up with a Developer Portal where augmented reality APIs can be requested and received within no time! This reduces implementation time and increases productivity and results.